Biography
Edit
Steve Brady is the perennial nice guy. While other characters grow, evolve and change throughout the course of the series, Steve is steady, Miranda Hobbes's grounding force.
Steve Brady first appears in "The Man, the Myth, the Viagra" as Miranda's one-night-stand bartender who won't take no for an answer. The episode ends with Steve and Miranda kissing in the rain, and Miranda finally becoming the romantic cliche she had always so vehemently denied.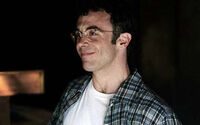 Ad blocker interference detected!
Wikia is a free-to-use site that makes money from advertising. We have a modified experience for viewers using ad blockers

Wikia is not accessible if you've made further modifications. Remove the custom ad blocker rule(s) and the page will load as expected.